Clean Sweep Plus Remediation Kit
kit includes:
3 Mold Bomb Spray Cans
4 Gallons of BioCide 100
1 Quart of BioCide 100
1 Safety Kit
1 Air Safti Air Scrubber
1 Spray Head
We are unable to ship this product outside the continental United States unless you make special arrangements, please call for further details.
PRODUCT REVIEWS
In this high humidity state, we routinely use BioCide Labs products during any remodelling projects, if mildew appears around air conditioning vents, or if any mold or mildew odor is detected in an apartment. These products are simple and effective solutions to the on going problem of high humidity causing mold and mildew.
-The Beachcomber

If you have mold and don't have the money to move out of where you're at or get mold remediation done, this Air Scrubber thing is the only way to go! What a difference, I felt the change in the air with minutes. I can already tell you this is also going to save me when allergy season comes.
-C. Lightner

It worked great on getting water stains out of expensive ceiling tiles. Allowed us to avoid the expense of replacing the tiles.
-Quality Inn & Suites

Light and easy to breathe through, I don't feel like I'm struggling for air like with some respirators. The filters protected me form the mold spores, I can't smell any mold when I'm wearing this mask. This is a great respirator. Strongly recommended.
-Cary

We Talk You Through the Process
The prospect of beginning a mold remediation project can be intimidating. We at BioCide Labs understand that and can walk you through the entire mold remediation process step by step over the phone. Our trained experts are here to assist you from start to finish.
How safe are our products?
Our products are very safe to use in home and work environments. EPA has classified many of our products as hospital grade disinfectants. This classification makes them one of the safest antifungal antimicrobials available on the market today. BioCide Labs products are safely used in schools, daycares, food manufacturers, hospitals, and homes across the country. We pride our self on helping keep our clients home and work a clean and healthy place to be.
Click to learn more about the products in the Clean Sweep Plus Remediation Kit.
Below are some more great packages you may find helpful.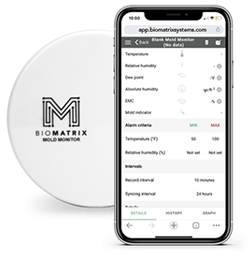 BioMatrix Mold Monitor
The Biomatrix Mold Monitor can predict and identify mold growth in your home or place of work. This revolutionary smart home-enabled system combines cutting-edge devices with an industrial hygiene team to help identify present and future mold contamination. Prevent mold from growing out of control with the Biomatrix Mold Monitor.
AirSafti Air Scrubber
The First Professional HEPA Filtration Designed for Homes.
AirSafti Air Scrubber filters down to 0.5 micros. Filtering out Mold Spores, Fine and Ultra-Fine Particulate, some Disease-Causing Bacteria, Pollen, Dust, Insulation Fragments and more. AirSafti Air Scrubber Eliminates Major Mold Spores from the Air in Minutes!